What is there to visit?
Guide to your stay in Sciacca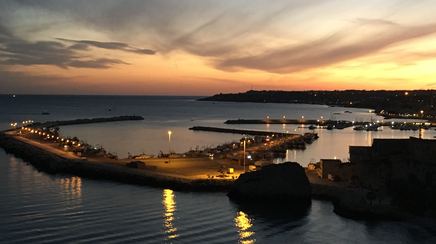 The Port of Sciacca
From the most ancient times, the port of Sciacca has had intense commercial activity, primarily made up of the grain trade. It was the  third largest frumentary port in Sicily. In more recent history, an important episode for the rapid development of the port, was the discovery of three banks of coral in the seas of Sciacca in 1875: this attracted a large number of foreign ship-owners to Sciacca and it created a short period of economic prosperity. This allowed for the transformation of the urban layout of the marina and its port.
Today the port of Sciacca consists of four quays for fishing. Along the quay of the west wharf area  is "Gaie di Giraffe" where three floating docks for pleasure craft were placed. One is managed by the nautical club the "Coral" with 150 posts and two by  the "Italian Naval League" with 300 posts. They can serve boats with a maximum length of 15-20 meters. Services provided include: distributor of fuels, taps for water, electricity, waste collection, food supply and a telephone booth.
The fishing fleet of Sciacca is the second largest in Sicily; it is made up of about 160 boats practicing different types of fishing, the most important being: the cianciolo or lampara, mainly engaged in fishing for anchovies, sardines, mackerel; fishing for swordfish and tuna and trawling for octopus, cod, shrimp , prawns, mullet, sole, etc. This fishing activity feeds a flourishing fish-conserving business and in particular the salting and conservation of blue fish, thanks to which the city of Sciacca has become  renowned in Italy and in the world.