What is there to visit?
Guide to your stay in Sciacca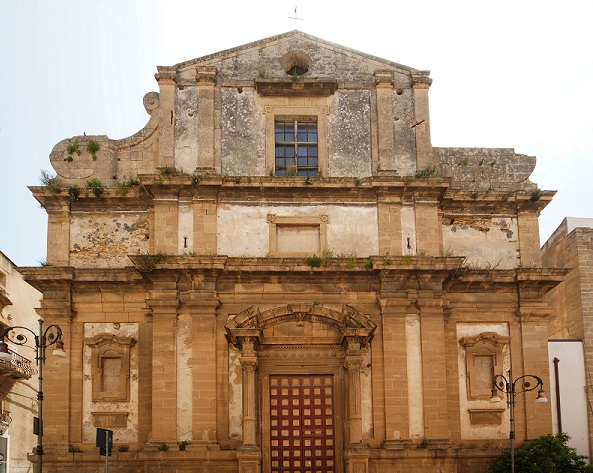 Church of the college
The Church of the Collegio was founded in 1613 by Giovanni Battista Perollo, but was completed in 1825 and is dedicated to Saint John the Baptist. The façade is incomplete missing the scroll on the right side. It is done in baroque-Renaissance style.
Entering inside, the church has only one aisle and is 50 meters long and 20 wide, with nine altars in sunken chapels. The vaults of the presbytery, the cross and the aisle are elegantly decorated with stuccos and gilded decorations in Baroque style. Starting from the right side of the aisle, in the first chapel is the canvas with the nativity and the Magi. In the second one, a statue of Padre Pio and in the third a wooden cross and at the foot of the cross, the sorrowful Virgin Mary  and a weeping angel. In the fourth a statue of the sacred heart. The fifth chapel is that of the cross, where on the altar there is a wooden statue of Saint Alfonso and on either side two paintings that narrate episodes of the life of the Saint. Below on the right is the marble sarcophagus of Giovanni Battista Perollo, founder of the church. On the high altar is the painting of Saint John the Baptist by Domenichino, and on the right side the canvas depicting Saint John baptizing Jesus while on the left the decapitation of Saint John. In the first chapel, on the left of the cross in the center, there is the statue of the saint Redeemer, and on the right the resurrection and on the left the ascension. Below, a relic of martyr San Privato. In the second chapel, the Most Holy Redemptorists with four busts underneath from 1600.In the third, a canvas of the Holy Family and in the fourth the canvas of the assumption.